The Full and Student Registration Fees include:
- Admission to both oral lectures and poster sessions
- Printed program
- Book with program and abstracts
- Admission to Wednesday Reception
- Refreshments during breaks
- Lunch from tuesday to Thrusday and social events.
- Boat Cruise on the seine river

PAYMENT
Please fill the Payment Form. The payment should be send before April 25th 2011 by email or at the following address.
By cheque
Cheque to "Société Chimique de France SCF". Don't forget to write "Elecnano4" and the name of participant on the back of cheque.

Payment "bon de commande"
To "Société Chimique de France SCF", specify the number and the name of participants Don't forget to write "Elecnano4".
Société Chimique de France SCF

N° SIRET de la SFC : 329 714 216 000 10 – APE 9499Z
N° TVA intracommunautaire: FR01329714216
By International bank transfer
For International bank transfer, Please send the corresponding amount of your registration to the following bank account: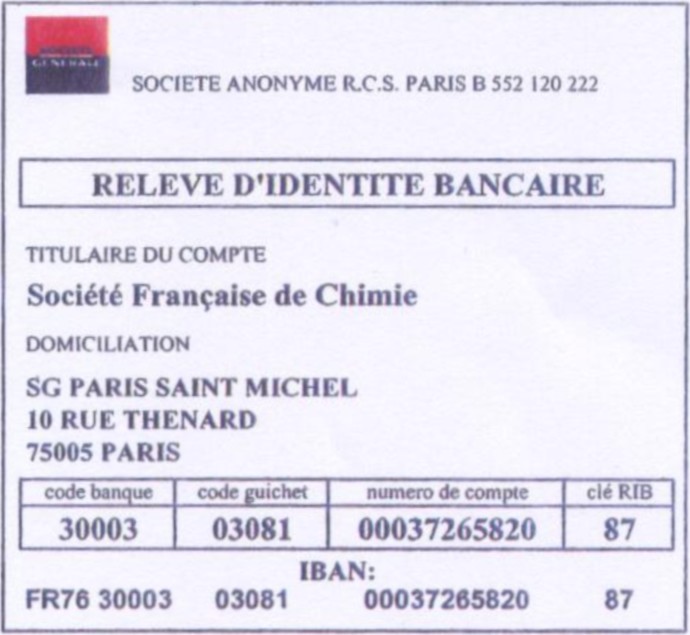 By Credit Card (Visa, Eurocard, Mastercard)
Please fill the

Payement Form

with Credit Card data and send it to the organizers by Fax (+33 (0)1 53 10 12 92) before

April 15th 2011

. Please note if you want a bill


Registration Cancellation Policy
Delegates with paid registrations who do not participate or who cancel 30 days before the conference start will forfeit the full refund of their registration fees. In the event of cancellation by the delegate to participate in the ISE Annual Meeting, the registration fee will be refunded according to the figures below. However, all processing cost will be covered by the registrant. Refunds are not given for no-shows.

Registration fee
Until 30 days before Early Registration deadline: Full refund
Until Early Registration deadline: 50% refund
After Early Registration deadline: 30% refund
Later than 30 days before the conference start: No refund
(All refunds are minus bank and handling fees of at least Euro 25)

Liability
Please note that SCF is not liable for travel, health, accidents or injury to delegates while attending and travelling to or from the meeting. Delegates are advised to carry adequate personal travel and health insurance.

Governing law and jurisdiction
These terms and conditions shall be governed by and construed in accordance with the laws of France. You hereby submit to and agree that the sole jurisdiction and venue for any actions that may arise under or in relation to the subject matter hereof shall be the courts located in France.